Ideal Body Fat Percentage
We all focus on our weight, trained through out our lives that we need to keep track of how many pounds we have tacked on or taken off. There is another measurement, that is probably more important and more accurate than knowing your poundage, and that is body fat. Body fat is a true measurement of where you stand in your fitness goals. So, what is the ideal percentage? What do they consider healthy or obese?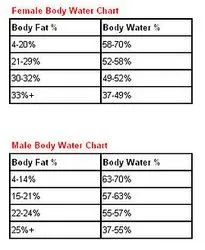 What is Water Percentage?
Water is critical to life! This healthy body water percentage chart will help you determine if you have enough water in your system. Many scales will tell you this value in seconds.
Because your fat in your body has a lot of water in it, you have to first know how much fat you have in your body before you can then figure out what your healthy water content is. That is, if you say have 33% fat in your body, then you only need another 37% of water alone, because you have water in the fat. The scales don't count "fat water" as water, otherwise your numbers would get very confusing
So the key here is that as you lose fat, you need to have more water in your system to compensate. Your body will tend to do this naturally for you. That is part of why it's key, as part of any healthy diet, to drink a lot of water. You should never "lose weight" by losing water. That can cause dehydration issues, which can be quite serious!
The cost is $20.00.